Are you interested in creating your own website but unsure of where to begin? Let us introduce you to WordPress, a versatile and user-friendly platform that has become the go-to solution for millions of website owners around the world, including at Cake & Eat It where all of our sites are powered by WordPress. In this beginner's guide, we will explain the mysteries of WordPress and help you understand what is WordPress all about all about.
What is WordPress?
WordPress is an open source content management system (CMS) that allows you to create, manage, and publish digital content such as web pages and blog posts without requiring extensive coding knowledge. It provides a user friendly interface including a dashboard and other tools to help you easily organize your website's content, appearance, and functionality. WordPress powers everything from small personal blogs all the way up to complex online stores.
A Short History of WordPress
Before we delve into the key features of WordPress, let's briefly discuss its history. WordPress was launched in 2003 as a blogging platform with the aim of making blogging accessible to everyone. As time passed, WordPress evolved into a full-fledged content management system that now powers over 40% of the entire internet. This evolution has resulted in remarkable flexibility and adaptability, making WordPress a great fit for a wide range of websites.
Key Features of WordPress
WordPress's massive popularity is due to its rich feature set, which is designed to make website creation and management as simple as possible: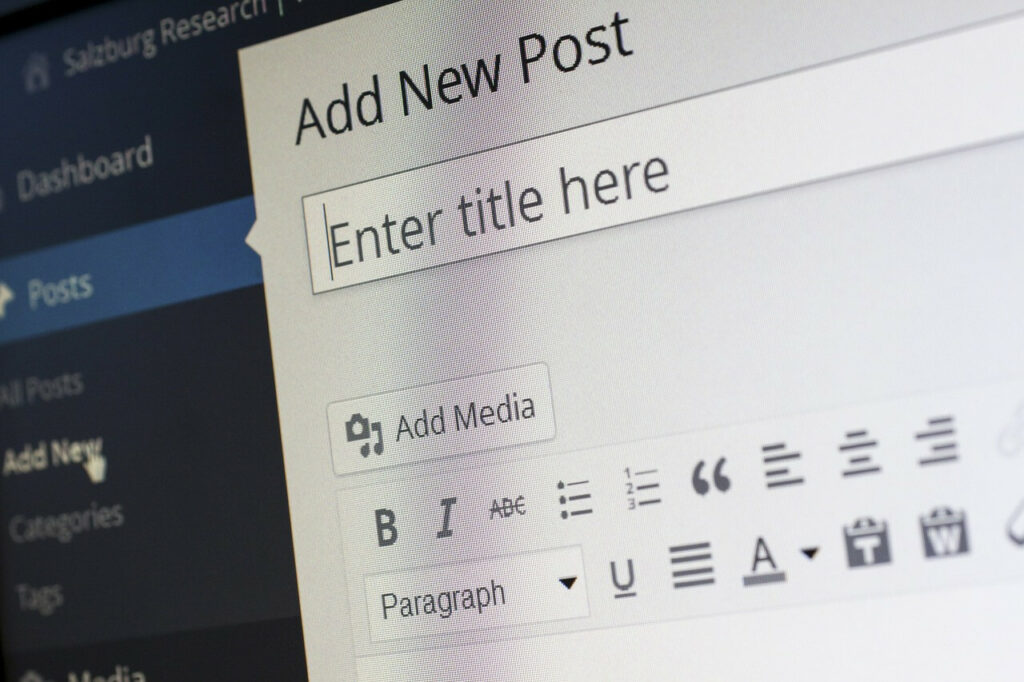 User-Friendly Interface
One of the main features of WordPress is its user-friendly interface. The intuitive WordPress dashboard makes it easy to manage various aspects of your website, such as content, appearance, and functionality. From here you can easily publish pages and blog posts, add images and other media, or update your site settings. This user-focused approach has made WordPress the ideal platform for both beginner users and experienced website managers alike.
Themes and Customization
WordPress offers a wide range of themes to choose from, allowing you to change the visual design and layout of your website. With thousands of great themes available, you can find a suitable theme for almost any type of website.
Moreover, you can use theme builders to customize your own design and layouts, including colors, fonts, and unique layouts and designs. For those with coding knowledge, creating a theme from scratch is also possible, giving you complete control over your website's appearance and functionality. This level of flexibility ensures that your website not only looks great but also reflects your unique brand and goals.
Plugins for Added Functionality
Perhaps the most exciting feature of WordPress is its vast library of plugins, which can greatly enhance your site. WordPress plugins function like apps for your website, providing expanded functionality without requiring coding knowledge. Plugins include everything from contact forms and calendars to SEO optimization tools, e-commerce capabilities, and more. Plugins open up a world of possibilities for what your site can achieve. Whatever feature you wish to add, there's likely a plugin available, making WordPress extremely versatile and adaptable.
Content Organization
WordPress's simple and organized structure makes managing your content a breeze. The WordPress dashboard divides your content into two primary types: posts and pages. Pages include your core marketing pages, such as "Services" or "About Us", while posts are used for timely content like news and blog articles, such as this one. This separation helps keep your content structured and easy to navigate, while allowing your visitors to quickly find the information they need. Additionally, WordPress's user-friendly editor makes writing and editing content super easy.
Built-in SEO Features
What is WordPress without its built-in SEO features? Search Engine Optimization, or SEO for short, is the process that helps your website appear higher in search results on Google and other search engines. WordPress comes built-in with SEO features to make ranking easier, even if you're not an SEO expert.
User-Friendly Permalinks: These are the web addresses for your pages and posts. With WordPress, you can customize them to include meaningful keywords related to your content. This helps search engines understand what your page is about, and keeps your links clean and easy to read.
Meta Tags: Think of meta tags as brief descriptions of your pages and posts. WordPress lets you customize these descriptions and control how they show up in search results. This helps you more precisely tell search engines what your content is about while encouraging people to click through to your pages.
By utilizing these built-in SEO tools, you can get a head start improving your search results, even if you're new to SEO.
What is WordPress.com vs. WordPress.org
If you've given WordPress a quick Google then you may have come across WordPress.com and WordPress.org. WordPress.com is a for-profit company that hosts WordPress sites on their own dedicated servers much like GoDaddy or Squarespace. On the other hand, WordPress.org is an open-source, self-hosted option that provides much greater control over your site's customization, functionality, and performance. The choice between the two depends entirely on your specific needs and goals.
Conclusion
In conclusion, this guide has covered the basics of what is WordPress and why it's a popular solution for many websites. WordPress offers a user-friendly interface, a vast library of themes and plugins, simple content organization, and built-in SEO features, making it an ideal platform for creating and managing a website of any type. Whether you're a blogger, small business owner, or anyone looking to establish an online presence, WordPress provides the tools and flexibility to bring your website to life.
Are you looking to take your website to the next level? Our team of experienced WordPress web designers can help you create a stunning custom website tailored to your unique needs and goals. Contact us today to learn more about how we can help bring your vision to life.